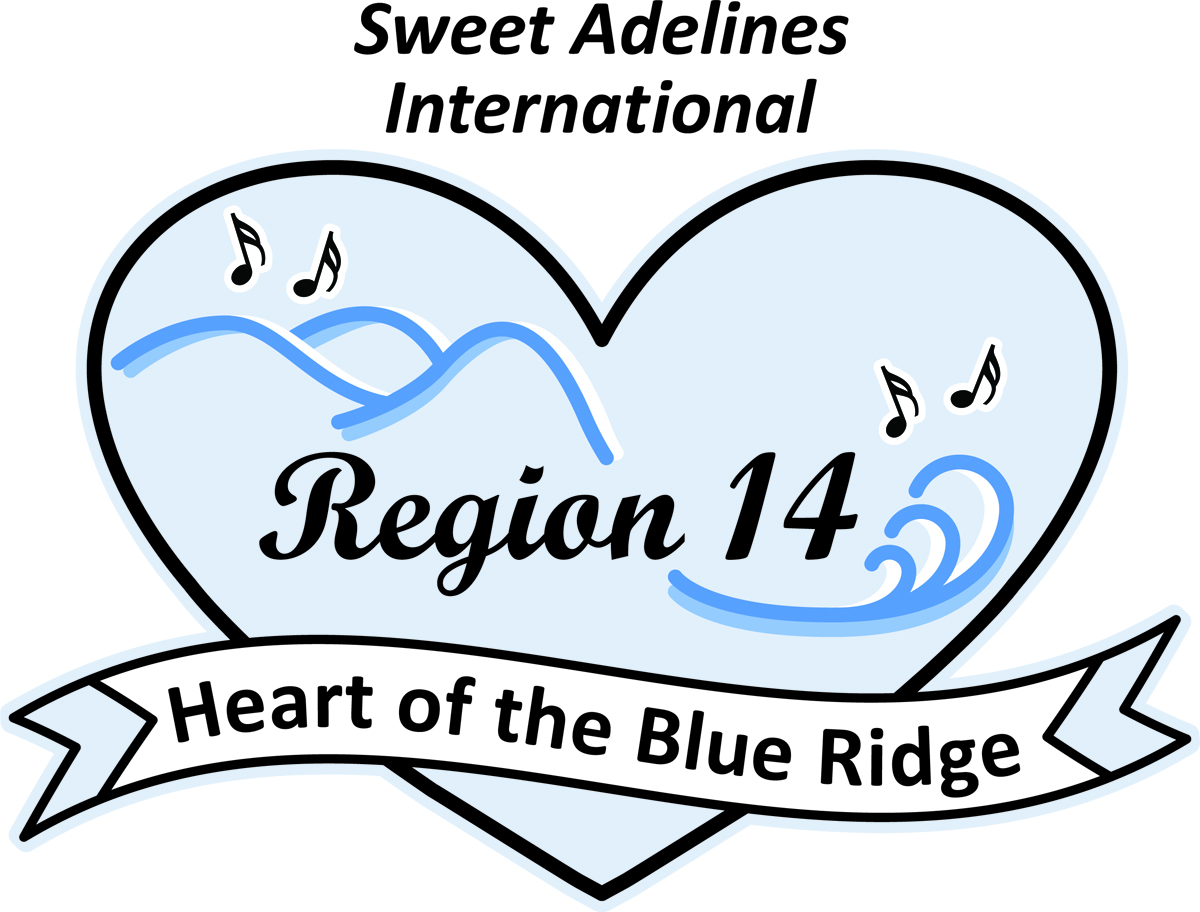 Sweet Adelines
Heart of the Blue Ridge Region 14
Sweet Adelines Region 14 Heart of the Blue Ridge is an organization of female singers, who meet regularly to practice, perform, socialize, and have fun! We currently have over 20 choruses and 30 quartets made up of singers of all ages from all walks of life.

All of the choruses and quartets in our region are affiliated with Sweet Adelines, a non-profit organization of approximately 30,000 members in choruses and quartets, worldwide. The Sweet Adelines International Missions Statement reads:

"Sweet Adelines is a worldwide women's singing organization committed to advancing the musical art form of barbershop harmony through opportunities in education, performance, and competition."

Performance
Choruses in our region get out and sing for our community. You will find our groups singing in annual shows, a number of community events, and at annual competitions. If you're looking for a unique musical experience to liven up your event, visit our Groups page to find Sweet Adelines near you who would love to perform!
Education
In addition to sharing our music with others, another great passion of ours is learning more about the art of a capella singing. Our mission strives for musical excellence with high member involvement at the chapter, regional, and international levels through education, understanding, and sharing of our love of barbershop harmony. Region 14's goal is to provide top-notch vocal, administrative, and performance education that is applicable to every member, whether she is a new singer or has been attending educational events for many years.

Competition
In the spring of every year, our choruses and quartets participate in the Region 14 competition and convention. Competitions are a special time for quartets and choruses from our region to come together to sing for each other and get some constructive feedback from a panel of judges. The winners of the regional competition in both quartet and chorus categories get to travel to International Competition, which is held in the fall in a city selected each year by Sweet Adelines. In 2019, the International Competition will be held in New Orleans. Click here to learn more.
Quartets
Many choruses have a number of members who form their own vocal quartets in addition to singing with the chorus. Our Region has many wonderful quartets, and we are very proud of them! Click here to see our quartet section to learn more about them.